This year, the annual meeting took place in Berlin the 11th of May. We had a whole Saturday to meet up with JPG members, to evaluate projects and to discuss new projects. We were delighted that dr. John Krugu, founding director, temporarily staying and working in the Netherlands, was able to attend our meeting.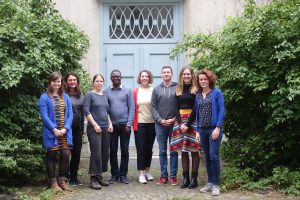 We also welcomed a new JPG member to the annual meeting. Her name is Anne, and she is from the Netherlands. She was a volunteer in 2018 in Bolgatanga. More about her experiences are written in her post. Daniela also joined the meeting to share her experiences with the YHFG projects, and contribute to the discussions. She is from Germany, and was a volunteer at YHFG in 2018. More about her experiences are written in her post.
During the meeting we made plans for the second half of 2019 and 2020. We discussed the opportunities regarding the remedial school project. For us, this is a very important project. We support particularly girls to be able to pass their secundair education exams, instead of them being forced to get married. JPG and YHFG planned to do more research about the effect of the program. Questions we have are for instance: what did the students learn from the program? what did they achieve after completing the program? did they get good jobs? were they forced to marry? In the coming weeks Youth Harvest Foundation Ghana organizes an event for the alumni, who completed the remedial school program in the past years. They will receive a questionnaire to give us more insight in what was achieved with the project, and what needs to be improved.
The results will be shared when they are available.