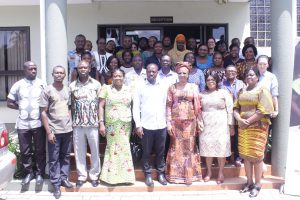 Child marriage compromises the development of girls and puts boys in an early adulthood position denying them their childhood. This problem is gradually becoming less common in Ghana. Presently, the percentage of women aged 20-24 years who got married before the age of 18 years stands at 19% nationally as compared with 21% in 2014.
National efforts by both state and non-state actors like the YHFG over the years have contributed to this decline. However, Upper East and Northern regions still have the highest prevalence rates of 28% each. This calls for more concerted efforts by government, CSOs, communities and families to end the menace.
A national stakeholders meeting was held in Accra on ending child marriage where stakeholders shared key implementation efforts in 2018, reviewed and updated the operational plan for the 2019-2020 cycle.