This post is about the experiences of Anne in Bolgatanga. She is from the Netherlands, and was a volunteer in 2018 in Bolgatanga. She is a JPG member since 2019.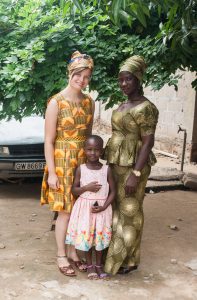 "I came to Ghana to do volunteering work at the physiotherapy department in a hospital. I really enjoyed my stay, especially with my host family in Bolgatanga. I had a great time at work and staying with the host family was amazing. It was very special to experience the friendliness and hospitality and it really felt like home.
Ghanaian culture
The people in my host family were very open and I could discuss things well with them. They taught me a lot about the Ghanaian culture. They learnt me to cook Ghanaian dishes, took me to local places, I joined them to the church and I even attended to a funeral. This was a special experience, because there was a lot of singing and dancing at the funeral and everyone was dressed beautiful and colorful in the African wear. When I joined my Ghanaian mother to the church on Sunday we went to the early service of 6:00. Starting the day there that early wasn't a problem, because I got used to the rhythm of standing up early. People are used to doing so here. I enjoyed watching the singing and dancing in the church.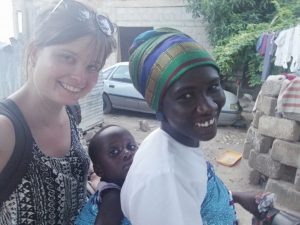 Riding a bicycle
I really enjoyed staying in Bolgatanga, also called Bolga. It's a city, but it feels very small. People are mostly riding on motor bikes. I sat many times on the back of a motor bike, which was really fun. From the partner organization I rented a bicycle and it was easy to cycle from one side to the other. When I was cycling around on my bike, I met new people on the way and greeted friends. Small children would run towards me, start waving and call the word 'solmia' very loud, which means 'white person'. That always felt strange.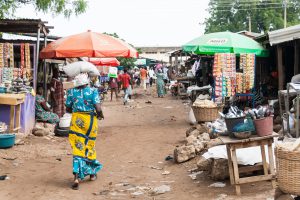 Second home
Besides cycling I loved to roam around at the street market, which was every 3 days. It was nice to learn some words of the local language, the frafra, and to see the people react when they heard me speak some words in frafra. After a weekend away I was so happy to be back in Bolga. And my favorite moment was when I came home and the kids would run towards me, hug me or climb on my bike while shouting auntie, auntie, auntie Anne. I was happy to be back at my second home with my Ghanaian family."