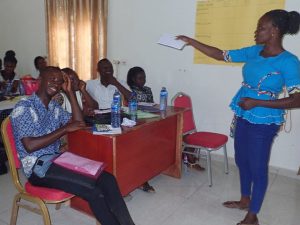 This month, school health teachers within the Bawku West District in the north of Ghana attended a refresher training. This training was part of YHFGs comprehensive sex education and child marriage project in schools. This project is supported by the Positive Action for Women and Girls Fund.
It is important that sex educators are properly trained. In Bolgatanga municipality the youth' knowledge of sexual and reproductive health and their familiarity with family planning methods and HIV/AIDS are relatively low compared to other parts of Ghana. Cultural practices such as child marriage are relatively common. Data showed that the Upper East Region has the highest percentage of young female who marry before they reach 18 years (39%) (read more).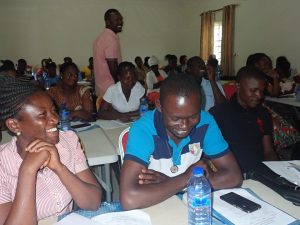 Besides, research (2012) showed that teachers who give lessons regarding sexual and reproductive health, experience various barriers. Sexual and reproductive health programmes are implemented in a context of limited time, resource constraints, shortage of staff and disorganization. These teachers need support regarding their task. Teachers educating sexual and reproductive health also experience motivating factors. For example, the impact they make on young peoples lives, and the declining influence of culture and tradition (read more).