Today, March 8 is a global day celebrating the social, economic, cultural and political achievements of women. The day also marks a call to action for accelerating gender parity (read more).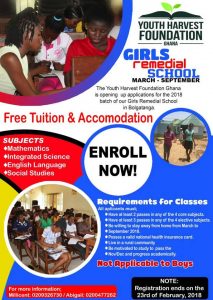 Youth Harvest Foundation Ghana (YHFG) is JPG's partner organization in northern Ghana. YHFG started a few years ago a remedial school for girls in northern Ghana to support girls who failed their exams and to successfully rewrite their exams and get admission into tertiary institutions. YHFG offers for instance special classes, guest lectures, books, shelter and coaching (read more).
In northern Ghana part of the young women are forced to marry at an early age (under 18 years), are not going to school, and do not have the opportunity to find a well-paid job.  Moreover, part of the unmarried young women have multiple sexual partners mostly to get money to pay for basic needs. Engaging in transactional sex is a relatively easy way for them to become more economically independent. Apart from the risk of getting HIV and STDs, girls with multiple sex partners are looked down upon by society and they will find it difficult to find a marriage partner.
Education in general could empower young Ghanaian women to create their own future, to prevent them from risky sexual behavior and protect them from early forced marriages (read more).
From March till September 2018 YHFG organizes a remedial school again, to empower young women in northern Ghana. For updates about this project, follow the facebook page.
Are you interested to become a volunteer at the remedial school? Please contact us.