Last month, two Dutch students (Jurrian Veldhuizen and Bram Massman) came back from Ghana after volunteering for a couple of months at the Youth Harvest Foundation Ghana (YHFG). Jurrian wrote a short testimonial about their experiences:
"Bram and I are both students from the University of Twente, and for our minor programme we chose for the 'Crossing Borders' programme. In this programme we got the opportunity to work at an organization abroad, and at the same time to perform a research at that same organization.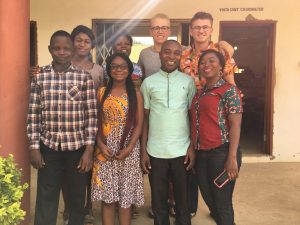 We ended up at the Youth Harvest Foundation in Bolgatanga, Ghana. From day one, this experience was the best one of our lives. First of all, the Youth Harvest Foundation was a very open, welcoming organization, which gave us every opportunity to be ourselves and make our own decisions regarding our research. They showed us all the good work they are doing, and that was amazing to witness. For example, they brought us with them to information classes about sexual reproductive health, with the whole class full with teachers instead of students. They also gave us all the tools and help we needed for our own research, which we were able to finish in a very good way.
Next to that, the country Ghana and the people from this amazing country gave us this beautiful experience. We lived in a host family during our stay in Bolgatanga, and this was the best choice we could have made. By living in a host family, the necessity to adjust and integrate into the different culture is much higher. We both have the feeling that we truly lived as a 'Ghanaian' during our time in Bolgatanga, and this is the best experience we could have wished for."
Are you also interested in voluntary work at YHFG with adolescents regarding sexual health, reproductive health, teaching, social work, entrepreneurship or research in the north of Ghana? Contact us! We will discuss with you the possibilities.
YHFG welcomes volunteers in Bolgatanga for about 10 years now, and they can support you with practical issues and accommodation or even a Ghanaian host family (read more).