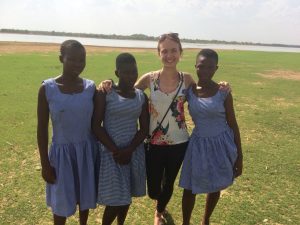 Buyina – The same
Where starts the difference?
Where ends the same?
Where starts the comparison? Where does it end?
Where starts the inequaliy? Where does it end?
Where start the equal rights? Where do they end?
Where do we want to be more similar?
Where do we want to be more different?
What do we want to achieve?
Who is we?
What is same?
What is different?
In the end we are more similar than we think we are.
Human with feelings, created by God in a colorful world.
Inspired by the Ghanian Culture written by Daniela Heiß
Daniela:
"In 2018 I had the possibility to stay for three months in the upper east region of Ghana – Bolgatanga. To me the town is characteristic for its beautiful market, communicative, warm-hearted and dance affine people as well as for its youth.
I am lucky to had some deeper conversations with a lot of adolescents. The common ground of the discussions was the following topic: future planing. I got to know youth in Bolgatanga is really trying their best to have a brigther future. For that, students are doing their best to gain good results in school. Some who can afford want to go to study. Some are additionally helping their community on a voluntary basis. Anyhow you are trying to stand on your own feet, everyone has to face the reality: highly motivated people are encountering low employment.
To handle this problem, Youth Harvest Foundation Ghana e.V. is  amongst others holding workshops to support and encourage especially young Ghanians to be creative in setting up their own business."