News from Youth Harvest Foundation Ghana: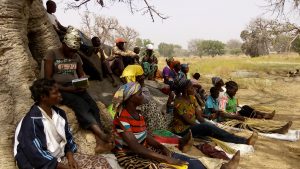 Women are key contributors to the growth and development of our societies, as producers of food, caretakers of children, the elderly, entrepreneurs and employees in businesses.
Despite the contributions to family and society, women remain disproportionately affected by poverty, discrimination and exploitation. They have limited access to credit, healthcare and education. However, evidence shows that women's economic empowerment is critical to achieving gender equality and sustainable development.
Hence YHFG in partnership with Christian Aid-Ghana as part of  implementation of the GROW project, distributed Savings and Internal Lending Communities (SILC) boxes to women Rice parboilers groups in five selected districts of the Upper East Region. The aim is to promote the culture of savings among these groups in order to improve income level and enhance their livelihoods.
One of the Women's Groups, Nongre-Sumaasum rice parboilers group in Yorogo within the Bolgatanga municipality after eleven (11) successful months of savings made an income of GHC 16,362.00 which was shared equally among members with joy and happiness. To some of these women it will boost their capital levels in order to expand their businesses during the harvesting time of rice. Out of their own initiative the group has set aside an amount of GHC 1500.00 as a welfare fund to be invested to support one another in times of need. Thanks to Christian Aid Ghana for the financial support.