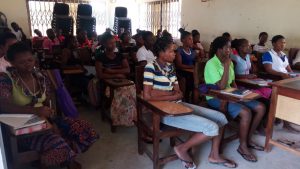 In the year 2017, the Youth Harvest Foundation Ghana (YHFG) supported the youth of the Upper East Region in northern Ghana with various activities regarding sexual health, education, sports and entrepreneurship. Most of these projects are organized by the Youth Centre of YHFG. One of these projects is the Remedial School.
The YHFG initiated the Remedial School project in 2014. It was observed that most girls who failed their exams in Senior High School, did not re-write their exams or failed again for their exams, due to poverty reasons. The 2017 group was the fourth phase of providing free remedial tuition to vulnerable girls and few boys to re-write their failed exams and progress on their academic goals.
The Girls Remedial School 2017 had 50 students comprising of 40 girls and 10 boys between the ages of 18 -24 year. Students were taken through six months intensive teaching and learning from March to September 2017. The private examinations started in the month of September and ended in October, 2017. The YHFG adapted new measures to improve upon teaching and learning to gain better learning outcomes. This effort was to help students and teachers put in their best to attain good results in the examinations. These efforts included mentorships, mock exams and health lessons.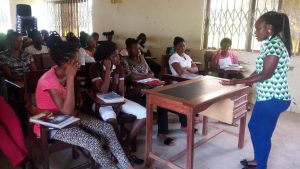 In July 2017, the girls (and some of the boys) of the Remedial School had a great moment with Mrs. Mercy Babachuweh; a board member of the YHFG when she spent valuable time to interact with them over the weekend. She used the opportunity to share her personal experiences as a way to motivate them to stay focused on their studies.
In August 2017 it was another great moment for the girls (and some of the boys) of the Remedial School when they interacted with Priscilla Nyaaba; a young female board member of the YHFG. She used the opportunity to educate them on Sexual Transmitted Infections and shared her personal experiences to help them develop a positive attitude towards their studies. A strong connection was built with the young people which enabled them to interact with her personally after the session.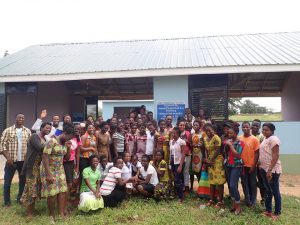 In September 2017, the YHFG organized a homecoming for past students of the Girls Remedial School in September 2017. The idea is to form an alumni and to strengthen a lasting relationship with past and current beneficiaries in the promotion of girl-child education and skills development.
The results of the students who attended the Remedial School in 2017 will be analyzed, and we will share them as soon as they are available.